CNC Machining ABS Accessories
CNC manufacturing ABS accessories, parts with custom machining service. Acrylonitrile Butadiene Styrene (ABS) is a light yellow or milky white plastic and popular, budget-priced engineering material that suitable in CNC turning, milling, lathing, drilling, cutting, injection molding and more. With good machinability, weldability, high impact strength, tensile strength & stiffness, chemical resistance, mechanical toughness, excellent dimensional stability and more properties, ABS plastics and ABS CNC machining products are often used to make lightweight solid products for mechanical, food equipment, aircraft, oil & gas, medical technology, alternative energy, conveying and more fields.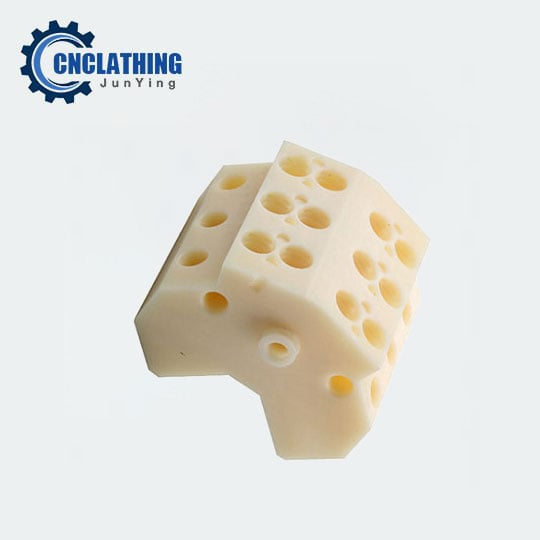 Advantages of Our CNC Machining ABS Accessories
– Custom ABS CNC machining parts and services for a wide range of applications.
– Exact dimensions as the customers' design or drawings and high accuracy
– Quality and quick CNC prototyping and precision CNC machining
– 100% inspection and detailed measurement for each ABS product.
Specifications of CNC Machining ABS Accessories
Material
ABS
Tolerance
+/-0.05mm
Surface Treatment
Anodizing, chrome plating, silver plating, polishing, galvanized, electroplating, passivation, powder coating, spraying, and painting, etc
Main Process
CNC machining, turning, lathing, milling, drilling, grinding, boring, stamping, threading, tamping, EDM, wire walking, laser cutting, laser marking, and surface treatment
Quality Control
Strictly Quality control in the whole process, from material to packing
Industry CT scanning, 3D projector, X-ray technology, Coordinate-measuring machine
Usage
Piping, musical instrument, support blocks, automotive body parts, electronic digital assemblies, protective headgear, wheel covers, enclosures, etc.
Customized Drawings
Auto CAD, JPEG, PDF, STP, IGS, and most other file formats are accepted