Brass in Sheet Metal Fabrication
Brass is essentially an alloy of copper and a small amount of zinc. It is strong, corrosion-resistant, and has excellent electrical conductivity. Due to its properties, brass sheet metal fabricated parts are suited for electrical applications. Brass sheet metal is relatively strong and provides a high level of corrosion resistance. There are various techniques that you can utilize to fabricate brass sheet metals, such as cutting, bending, forming, and welding. The varying content of zinc and copper in brass alloys makes them unique. Brass products are widely used in mechanical accessories, decorative applications, and musical instruments. Typical uses of brass sheet metal parts including gears, hinges, handles, and other hardware. Whether you are looking into brass products with aesthetic appeal or mechanical brass parts, sheet metal fabrication is a way you can go.
Benefits of Brass Sheet Metal Fabricated Parts
Brass sheet metal parts can prevent the growth of viruses and bacteria.
Brass sheets are easy to bend to match the structure that they connected.
Brass is highly flexible and moldable compared to other sheet metals.
Brass sheet metal parts can withstand high temperatures and have great conductivity.
Brass fittings are easier to undertake plumbing works.
Brass sheet metal parts are ideal for aviation and naval industries due to being corrosion-resistant.
Brass parts are perfect for applications that require precision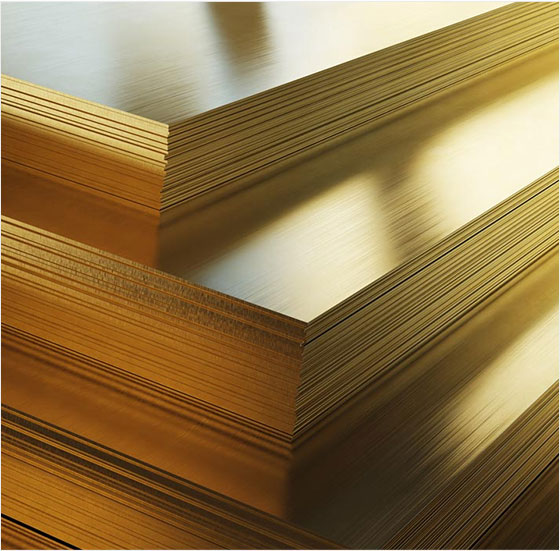 Types of Brass Sheet Metal
Alloy C353 (leaded brass): lead content up to 3.5%, the addition of lead seals shrinkage holes, resulting in pressure tightness. Screws, valves, fittings, bearings, specialty fasteners, architectural hardware, and general-purpose machine components may all be made from leaded brass.
Alloy C260 (cartridge brass): C26000, commonly known as 70 30, is a copper-zinc alloy. C260 Cartridge Brass has a warm yellow tone and is typically available in tube, sheet, and plate form. Because it has historically been used in ammunition cartridges and shells.
Alloy C464 (naval brass): a traditional naval alloy with high strength and resistance to corrosion. It is commonly utilized in maritime construction where a robust, corrosive-resistant, and hard material is needed. It is also suited for usage in fresh and saltwater. Propeller shafts, nautical hardware, ornamental fittings, shafting, propeller shafts, and turnbuckles are all made of naval brass.
Brass Sheet Metal Fabrication Services – Sheet Metal Brass Parts Fabricator & Manufacturer
At Junying, our brass sheet metal fabrication services can supply custom brass parts with desired geometries and specifications. Fully-equipped facilities and seasoned technicians can get the job done efficiently and accurately. We'll fabricate the sheet metal brass parts based on the given designs using up-to-date machines and tools, which also improves productivity and quality. We provide precision brass fabrication and metal finishing services to achieve your manufacturing expectations. And we accept any projects as long as we can handle it, from the smallest brass sheet parts to the largest workpiece. Surface finishing processes can give your brass fabricated components a high-grade, attractive appearance and excellent characteristics that are perfect for your applications. Laser cutting, sawing, shearing, punching, cutting, bending, and more technologies are available here to take your drawings to the final product with competitive prices and the best service.
Why Choose Junying Brass Sheet Metal Fabrication Service?
Meet the industrial standards or particular requirements of the products
More than 100 skilled employees and a team of professionals
A wide selection of fabrication services for brass sheets
Additional services like machining and surface finishing are provided for different needs
Talented engineers to offer technical support and assistance during the whole process