Steel CNC Machining Services & Machined Parts – Carbon Steel Machining Company
Working with a specialized and seasoned manufacturer can help you save time and money, Junying is one of these options. Based on decades of experience in steel CNC machining services, our engineers, designers, and technicians are capable to optimize the product design, prototypes building, material selection, and steel parts production. We also have a well-equipped machine shop and advanced manufacturing facilities to deliver custom CNC steel machining parts with simple or complex geometries, applying various technologies including milling, turning, drilling, wire EDM, grinding, or other machining processes, as well as finishing services and more fabrication methods. Whether you want to reach high precision, repeatability, or tight tolerances, our steel machined parts will match your needs. For the best carbon steel machining company, look no further than Junying, welcome to send your inquiry to us. We can produce machining steel parts and components made of different types of carbon steel alloys, mild steel, and more.
Why Choose Steel CNC Machining Services at Junying
Quality certifications allow us to export steel and metal CNC products worldwide
Up-to-date equipment and machinery and trained workers ensure the productivity
Over 15 years of experience in machining in different industries and markets
Great location condition helps the transportation of the goods and for faster delivery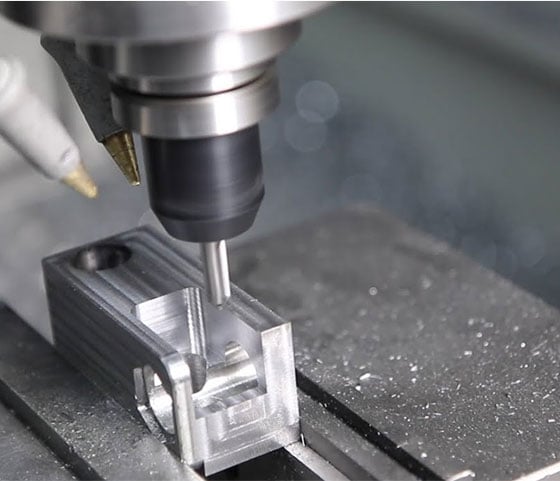 CNC Machining in Steel – Steel Properties and Benefits
Steel is the backbone material of general engineering and industrial applications and is widely used in CNC machining, especially the low-carbon and medium-carbon steels. Steel is an alloy of iron and carbon usually contains many other elements such as manganese, silicon, phosphorus, and oxygen. The carbon content in steel improves its strength and fracture resistance. Most steels have good machinability and weldability, and can be well heat treated. Steel tends to be the first option for sectors like automotive, aerospace, and applications where require high durability and performance, and CNC machining is often the manufacturing method for these industries. In terms of its benefits and advantages, steel is much stronger than many other materials and very affordable at the same time.
Common Steel Alloys Used in CNC Machining – Different Steel Types, Grades & Applications
What types of steel are most commonly used in CNC manufacturing? Mild steels and low carbon steels are widely used for producing high volume CNC parts due to the good machinability and favorable cost, such as screws, shafts, pins, chains, etc., while medium carbon steels come with balanced strength and ductility, combing their wear resistance and other mechanical properties, making them ideal choices of large CNC steel parts in automotive. Here are different machining steel materials with their characteristics. We work with a wide selection of steel alloys, not limited to the following ones.
Steel 4130: 4130 steel is a chromium-molybdenum alloy steel that is classified as being low carbon. It has a density of 7.85 g/cm3 and benefits from heat treatment hardening. It combines excellent strength and weldability with steel abrasion and impact resistance. While it is easy to mill and work both hot and cold in the annealed stage, it becomes substantially more difficult to work after the steel has been hardened. Additionally, 4130 steel is readily welded. Typical applications of 4130 steel are bearings, vehicle parts, gears, structures, cutters, etc.
Steel 4140: 4140 steel is a low alloy steel that contains chromium, molybdenum, and manganese, known for its toughness, high fatigue strength, and torsional strength. Steel 4140 is extremely similar to 4130 but contains more carbon, increasing its strength and hardening qualities. The inclusion of chromium and molybdenum tends to provide additional mechanical benefits on 4140 steel over ordinary steel. It is more brittle than standard steel. Thin-walled pressure tanks, spindles, and high-strength bolts are all examples of applications.
Steel 1018: 1018 steel is a low carbon mild steel that has excellent ductility, toughness, and strength characteristics. Most welding methods are compatible with 1018 steel. 1018 is general-purpose steel that gives exceptional case hardening and high surface hardness to parts such as worms, dogs, pins, liners, machinery components, special bolts, ratchets, chain pins, oil tool slips, tie rods, anchor pins, and studs. It is used to enhance the operations of drilling, milling, threading, and punching.
Steel A36: A36 steel is a frequently used structural steel alloy in the United States. A36 is available in a range of shapes and sizes, including plates, structural shapes, bars, girders, and angle iron. A36 is a material that is easily welded using any welding method. A36 is low-carbon steel, which makes it easy to machine, weld, and shape, making it particularly useful as a general-purpose steel. It also means that heat treatment has little impact on A36 steel.