CNC Machining in PEEK – What is PEEK Plastic?
Solid PEEK material is readily machinable, CNC PEEK machining services are great solutions to produce high-quality PEEK parts with electrical and thermal insulation, as well as other benefits.
Polyether ether ketone (PEEK) is a semicrystalline thermoplastic polymer used for engineering applications, demonstrates excellent mechanical and chemical resistance properties that are retained to high temperatures. Due to its great strength, wear resistance, abrasion resistance, and chemical resistance, PEEK parts and products are ideal choices for lots of demanding fields, including aerospace, automotive, chemical, fluid, and high-temperature applications. PEEK plastic is available in bar and rod forms makes it suitable for CNC machining and cutting operations, including sawing, drilling, milling, and turning. You can get PEEK materials in glass-fiber, carbon fiber reinforced, bearing grade, medical grade, etc.
Benefits of PEEK Plastic
Chemical and water resistance
Wear and abrasion resistance
Low moisture absorption
Biocompatibility (medical-grade)
Lightweight substitute for most soft metals
Highly resistant to thermal degradation
Good robustness
Compatible with ultra-high vacuum applications
Good dimensional stability
Excellent resistance to gamma and X-rays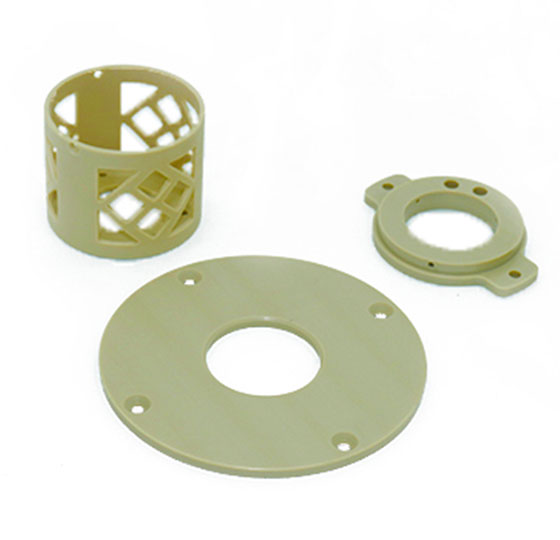 PEEK CNC Machining Services – PEEK Plastic Machined Parts Manufacturer
With decades of experience in plastic CNC machining, Junying works with a wide variety of plastic materials and PEEK grades. As a China-leading plastics and composite machining company, we can employ multi-axis CNC PEEK machining to ensure efficiency and accuracy, even the most complex geometries and tight tolerances are required. CNC machined PEEK parts are fabricated based on customer requirements or CAD drawings submitted, our engineers and designers will help you improve the models to gain the best outcomes and reduce costs. If you want to develop your project about PEEK (Polyether ether ketone) products or prototypes, we are glad to discuss all the details with you. Consistent communication will also be kept during the production cycle of PEEK machined parts. PEEK CNC machining services mainly reduce manufacturing errors and increase productivity, also deliver superb quality and precision.
Common Applications and Uses of CNC PEEK Machining Parts
PEEK (Polyether ether ketone) is a special engineering plastic with excellent performance. Compared with other engineering plastics, PEEK has more significant advantages and is widely used in aerospace, automobile manufacturing, electronics and electrical, medical, food processing, and other fields. PEEK material exhibits excellent properties such as high-temperature resistance, self-lubrication, easy processing, and high mechanical strength. It can be manufactured and processed into various mechanical parts, such as automobile gears, oil screens, and shift start discs; pipelines, valves, and pumps for conveying ultrapure water; aircraft engine parts, automatic washing machine runner, medical device parts, etc. It can still maintain good electrical insulation performance under harsh working conditions such as high temperature, high voltage, and high humidity. The field of electronic information has gradually become the second-largest application field of PEEK resin. PEEK not only has the advantages of lightweight, non-toxic, and corrosion resistance, but also is the closest material to human bone at present, and can be organically combined with the body. Therefore, using PEEK resin instead of metal to manufacture human bone is another important application in the medical field. PEEK has excellent physical and mechanical properties and can replace traditional materials such as metals and ceramics in many special fields
Why Choose Junying PEEK CNC Machining?
Advanced machining technologies and equipment ensure accuracy and repeatability
Tight tolerances, high precision, and custom specifications as request
Right handling to minimize internal stress and avoid cracks in products
On-site inspection and testing ensure the quality of materials and products
Reduced setups and the number of difficulties to lower the cost and processing time
A wide variety of surface finishes and material grades for selection