CNC Machining in POM/Delrin – What is POM Plastic
CNC POM Machining services produce plastic parts that come with exceptional performance, accuracy, and repeatability. What is POM plastic and why it is used in CNC machining?
POM (Polyoxymethylene), also known as Delrin and Acetal, is an engineering thermoplastic characterized by its high stiffness, good machinability, excellent rigidity, low friction, high accuracy, and high dimensional stability, as well as chemical and abrasion resistance, these properties make it a great material in plastic CNC machining. POM materials are often used to make precision parts for a wide variety of applications. Typical uses of CNC POM machined parts include mechanical gears, guiding elements, connector components like nuts and screws, and various custom POM parts. If you are looking for a POM CNC machining company, Junying provides Delrin machining services for many years and specialized in POM milling, turning, and drilling. There are PTFE-filled Acetal, glass-reinforced Acetal, FDA-compliant Acetal, food-grade POM, medical grade POM, and more grades to choose from.
Benefits of POM Plastic Material
Alternatives to some traditional metal materials
Used in electronic, mechanical, automobile, building, medical, etc.
Outstanding machinability and some excellent properties
High tensile & impact strength and good rigidity
Good dimensional stability and creep resistance
Good wear resistance and chemical resistance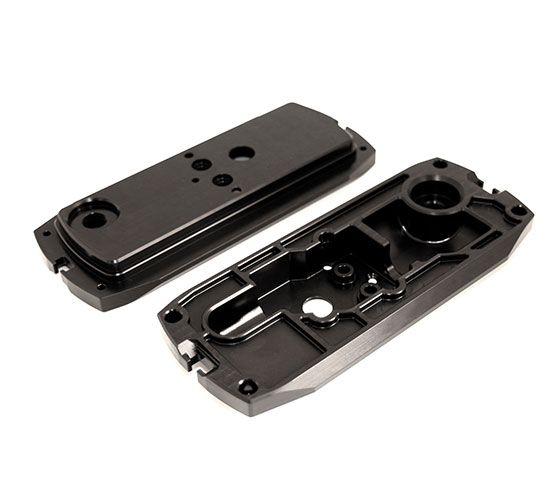 POM CNC Machining Services – Precision CNC Machined POM Parts Manufacturer
Junying (CNCLATHING) is experienced in machining POM material and manufacturing quality POM parts, our POM CNC machining services will deliver the best parts with lower cost and shorter lead time. With our state-of-the-art CNC machines and equipment, we can work with different grades of POM plastics and machine intricate, precise turning, drilling, and milling parts. We have 3-axis/4-axis/5-axis machining capabilities for your various purposes and needs of Delrin machined parts, enabling us to handle complex CNC machining POM components while maintaining high precision, premium accuracy, flexibility, and consistency. We can also offer CNC milling and CNC turning for other kinds of demands in Acetal parts production. If are considering using POM material to make your required CNC products, welcome to request an online quest or contact us to talk about more details, we'll make our best to assist you to complete the project.
Common Uses & Applications of Delrin/POM Machining Parts
CNC machining POM parts are widely used in mechanical, medical, and other industries due to their properties and characteristics. For example, we can find POM products work as sliding and guiding elements because of the low frictional resistance and excellent sliding properties. What are other uses of POM CNC parts?
Medical equipment and parts
Mechanical gears, bearings, bushings, fasteners
Electrical insulation, housings
Food contact components
Valves, seals, handles, and more
Why Choose Junying CNC POM Machining Service?
None of the quality and delivery issues
Capable to offer prototypes and large-batch production runs
ISO 9001:2015 quality assurance
Conforms to industrial standards
Extensive machining and manufacturing technologies
Design improvements and customization options