Stainless Steel Sheet Metal Fabrication
Stainless steel has excellent corrosion resistance, good formability, and great mechanical properties, which makes it an ideal material for sheet metal fabrication. Stainless steel metal sheet is a well-known building material that is durable and affordable. There are so many ways stainless steel sheet metal parts are used, involves automotive, architecture, construction, medical, food, energy, heavy industry, chemical processing, etc. Unlike standard steel, stainless does not easy to rust, corrode or stain. Stainless steel sheet metal components are the go-to options when they need to be exposed to corrosive and extreme environments. A selection of surface treatment methods can further improve its resistance. Once a stainless steel sheet has been transformed into a 3D part, it can be finished with different techniques. Not all stainless steel alloy for sheet metal fabrication performs in the same way, you need to choose the right grade based on their cost and characteristics.
Benefits of Steel in Sheet Metal Fabrication
The addition of chromium gives stainless steel great corrosion resistance.
Stainless steel sheet metal can be in a wide range of thicknesses.
Stainless steel sheets come in a diversity of grades and configurations.
Stainless steel metal sheets can avoid unnecessary stains produced during the process.
Stainless steel is highly recyclable, structural, conductive, reflective, and sustainable.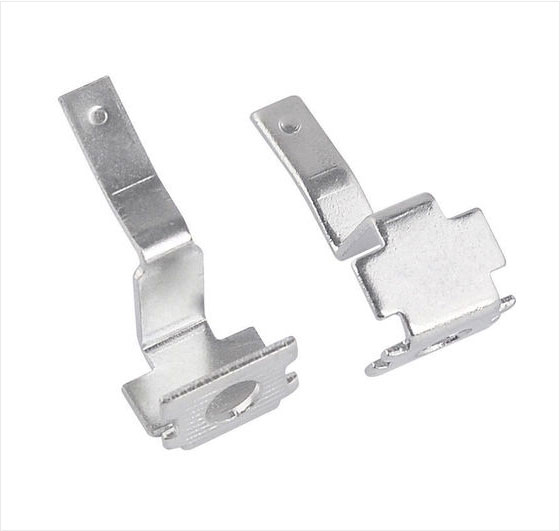 Common Stainless Steel Grades in Sheet Metal Fabrication
The austenitic stainless steel, which is known as 300 series alloys, are ideal material options for stainless steel sheet metal fabrication services based on excellent formability and good ductility. This series of stainless steel has outstanding corrosion resistance due to the high content of chromium and nickel. The most common examples are SS301, SS304, and SS316.
Stainless Steel 301: austenitic stainless steel with a nominal chromium content of 17% and a nickel content of 7%, which gives excellent strength and ductility during cold work. Additionally, it exhibits superior corrosion resistance, but not good as that of 304/304L. The 301 is an excellent material for welding, forming, and drawing. It is a less expensive alternative to 304 stainless steel. It has a wide range of uses, including structural components for trains and appliance casings.
Stainless Steel 304: the most common and affordable stainless steel, it contains both chromium (between 18% and 20%) and nickel (between 8% and 10.5 percent). It can be easily formed into various shapes. 304 stainless steel sheet is resistant to a wide variety of chemical corrodents, as well as industrial and marine conditions. When worked, 304 stainless steel may become somewhat magnetic and is not heat treatable. Food processing equipment such as tanks and structural bracketing are typical uses.
Stainless Steel 316: known as marine grade stainless steel. It includes molybdenum, which further enhances its corrosion resistance, making it perfect for applications that involve salt water, acidic chemicals, or chloride. Additionally, it is very malleable and weldable. Typical applications include components exposed to corrosive environments, such as chemical tanks or maritime equipment.
Stainless Steel Sheet Metal Fabrication Services – Stainless Steel Sheet Metal Parts Manufacturer
Steel metal fabrication and manufacturing is one of the main services provided by Junying, and the stainless steel metal sheets are the primary materials of the products for diverse industries. From construction projects to electronic accessories, our stainless steel sheet metal fabrication services will deliver custom stainless steel parts that fit your exact standards. Stainless steel sheet metal parts are generally fabricated through processes including bending, cutting, joining, annealing, drawing, folding, welding, roll forming, brazing, punching, pressing, etc. Junying will also offer a full array of surface finishing services to achieve a unique appearance and effect according to your needs. With decades of years from plastic and metal machining to fabrication, Junying is a full-service company that provides almost any manufacturing service with well-equipped facilities and seasoned professionals.
Why Choose Stainless Steel Sheet Metal Fabrication at Junying
A combination of processing and finishing services to reach your custom needs.
An extensive range of stainless and more alloys with enough inventory for selection.
Reasonable prices for both high volume production and small orders.
ISO 9001 certified manufacturer with a complete quality management system.
High productivity and fast shipping with average delivery within a week.