Copper CNC Machining Services – Leading China Copper Parts Manufacturer & Company
With vast experience, Junying provides copper CNC machining services and machined components for a wide variety of industries. Full CNC manufacturing facilities and various machining capabilities allow us to fabricate varying copper parts with different sizes, complexity, and specifications, also achieving or exceeding the customers' expectations. With a well-equipped machine shop, our seasoned technicians can perform CNC milling, turning, wire EDM, 5 axis machining, and more processes for creating prototypes and end-use CNC copper parts. Our engineers will help you improve the design and reduce the cost, you can upload your CAD files to get a free online quote. We also provide multiple surface finishes for copper machined components such as electroplating and electropolishing.
Why Choose Copper CNC Machining at Junying
Various machining capabilities provide more possibilities for custom parts
Tight tolerances and high precision based on top-line equipment and machinists
Quick turnaround and fast cycle time, maintaining the accuracy and repeatability
Both small and large production runs are accepted and no minimum order quantity
Complete control on product quality, manufacturing process, and inspection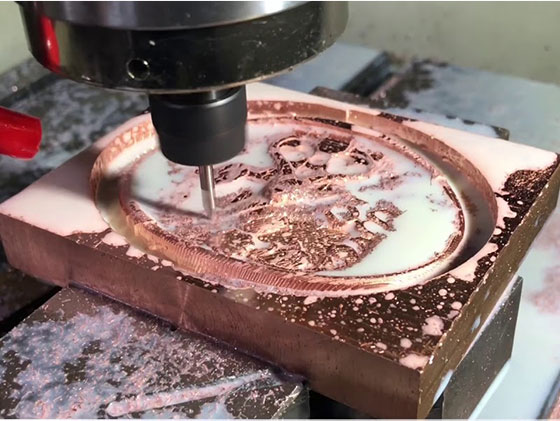 Copper in CNC Machining – Copper Properties and Benefits
Copper is a reddish, extremely ductile metal. In CNC metal machining, pure copper is hard to machine because of its high plasticity and toughness, but most copper alloys that contain other elements such as aluminum and zinc have improved and even excellent machinability, which makes them popular materials for custom copper parts. Copper has unique benefits that make it a great CNC machining material and suitable for different applications, including good corrosion resistance, ductility, heat, and electrical conductivity and is very malleable. Precision parts can be produced with CNC copper machining, ensuring high consistency and accurate specifications.
Types of Copper Alloys in CNC Machining
There are two types of copper alloys commonly used in CNC machining parts, due to the good electrical and thermal conductivity, CNC copper parts are popular in automotive, medical, aerospace, power industries.
Copper C101: also known as C10100 or CDA 101, is a type of oxygen-free copper that contains 99.95% Cu, giving it excellent electrical and thermal conductivity. It also has good ductility and good impact strength. Common applications of copper alloy 101 include automotive rectifiers, coaxial cable, bus bars, conductors, vacuum seals, etc.
Copper C110: also known as UNS C11000 and CDA 110, the purest copper contains 99.99% Cu. Copper alloy 110 also has excellent electrical and thermal conductivity, as well as high corrosion resistance, high ductility, and good hot/cold forming characteristics. Its typical uses are cables, overhead line conductors, generator windings, and coaxial lines.