CNC Plastic Machining Services – Custom Machined Plastic Parts Manufacturer in China
As a China-leading CNC parts manufacturer, Junying is specialized in fabricating various custom machined plastic parts using CNC equipment and technologies, our CNC plastic machining services provide the most efficient and economical solutions for rapid prototyping and mass production runs. Extensive experience and skilled experts enable us to work with complex shapes and rare materials, produce customized plastic CNC machining parts according to customers' needs. We'll select high-quality and high-performance plastic materials, whether you want ABS, PS, PC, Nylon, PEEK, PA, POM, or other types to make the products. Junying is a CE and ISO 9001 certificated CNC manufacturer, and able to offer high precision CNC machining plastic parts with tight tolerances and premium properties required in critical industries.
Why Choose Junying Plastic CNC Machining Services?
A wide selection of high-performance engineering plastic materials in stock
State-of-the-art machining, manufacturing, and measurement facilities
Complete quality management system and professional inspection before shipment
Premium quality plastic parts with custom specification and high accuracy
Strong capacity for CNC programming, 5-axis machining, and precision production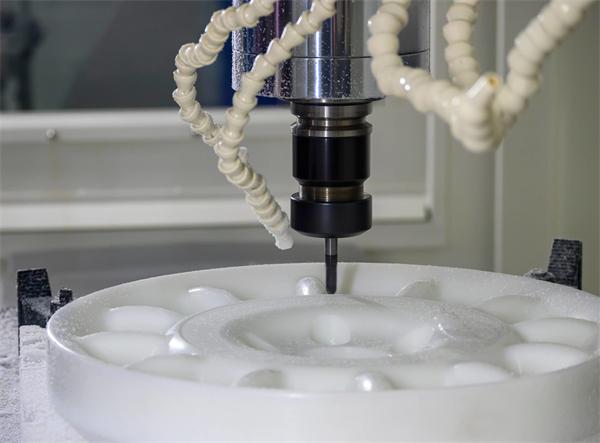 CNC Plastic Machining Materials at Junying
CNC Machining ABS
CNC Machining POM (Polyoxymethylene)
CNC Machining PE (Polyethylene)
CNC Machining PMMA (Acrylic)
CNC Machining PA (Polyamide or Nylon)
CNC Machining PC (Polycarbonate)
CNC Machining PEEK (Polyetheretherketone)
CNC Machining PTFE ( (Polytetrafluoroethylene or Teflon)
CNC Machining PS (Polystyrene)
CNC Plastic Machining Services & More Capabilities at Junying
Plastic CNC Fabrication
Plastic CNC Turning
5-Axis Plastic Machining
Full 3D CMM Measurement
Laser Scan and Reverse Engineer
3D Printing Services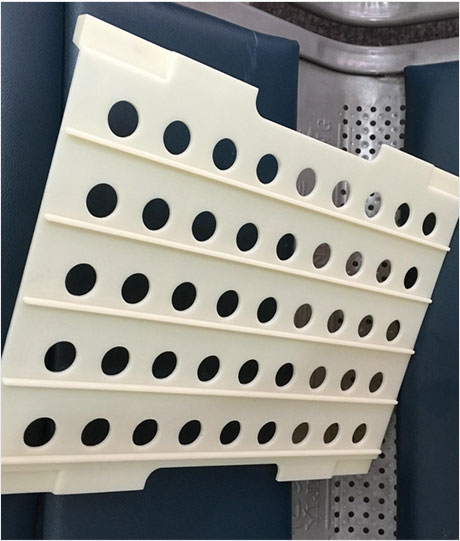 What Plastics Can Be CNC Machined?
In plastic CNC machining, the final product is made by removing excess materials from a plastic block using digital computer control machines. A wide selection of plastic and polymers can be machined on CNC equipment, check out some of the common CNC machining plastics, with their characteristics and applications.
ABS: It has excellent impact resistance, heat resistance, low-temperature resistance, chemical resistance, and electrical properties. It also has the characteristics of easy machining, stable sizes, and a good surface finish. ABS plastic is easy to paint, a range of secondary processing can be performed on ABS plastic parts such as surface metal spraying, electroplating, welding, hot pressing, and bonding. CNC machining ABS is widely used in machinery, automobile, electronics, instruments and meters, textiles, and construction. ABS is usually light yellow or milky white granular amorphous resin. ABS is one of the most widely used engineering plastics.
Polyamide (PA or Nylon): There are two types of Nylon commonly used in CNC plastic machining: Nylon 6 and Nylon 66. Polyamide Nylon 6 has the most superior comprehensive properties, including mechanical strength, stiffness, toughness, mechanical shock absorption, and wear resistance. These characteristics, together with good electrical insulation and chemical resistance, make it a general-purpose material for the manufacture of mechanical structure parts and maintainable parts. Compared with Nylon 6, Nylon 66 has better mechanical strength, stiffness, heat resistance, wear resistance, and creep resistance, but its impact strength and mechanical damping performance are reduced. It is very suitable for automatic lathe machining. PA66 is more widely used in the automotive industry, instrument shells, and other products requiring impact resistance and high strength.
POM: POM is a tough and elastic material, which has good creep resistance, geometric stability, and impact resistance even at low temperatures. The high crystallinity of POM leads to its high shrinkage. POM has a very low friction coefficient and good geometric stability. It is especially suitable for making gears and bearings. Because it also has high-temperature resistance, Therefore, it is also used for pipeline devices (valves, pump housings), lawn equipment, video recorders, radios, headphones, stereos and other audio machines, printers, keyboards, CD-ROM drives, washing machines, hairdryers, and other household appliances, mechanical parts of safety belts, automobile parts such as door external handles, mirrors, and engine rooms, as well as precision parts such as cameras, clocks, and watches, as well as building materials, toys such as game consoles.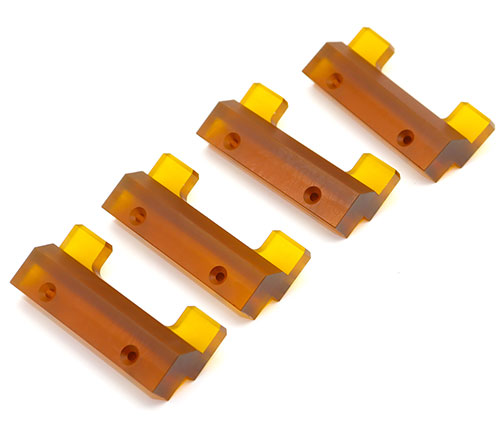 PMMA: also known as Acrylic, is an important thermoplastic developed earlier. PMMA has the advantages of good transparency, chemical stability, mechanical properties and weather resistance, easy dyeing, easy processing, and beautiful appearance. Plexiglass is also called gelatin glass, acrylic, etc. The material is widely used in the production of advertising light boxes, nameplates, etc.
PC: PC is a high molecular polymer containing carbonate group in the molecular chain. The three application fields of PC engineering plastics are the glass assembly industry, automobile industry, electronics, and electrical industry, followed by industrial machinery parts, optical disc, packaging, computer and other office equipment, medical and health care, film, leisure, and protective equipment, etc.
PEEK: Polyether ether ketone (PEEK) resin is a kind of special engineering plastic with excellent performance. Compared with other special engineering plastics, it has more significant advantages, such as positive high-temperature resistance of 260 ℃, excellent mechanical properties, good self-lubrication, chemical corrosion resistance, flame retardancy, peeling resistance, wear resistance, nonresistance to strong nitric acid, concentrated sulfuric acid, radiation resistance, and super mechanical properties. It can be used in high-end machinery Nuclear engineering and aviation technology.
PTFE: or Teflon is a synthetic polymer material that uses fluorine to replace all hydrogen atoms in polyethylene. This material has the characteristics of acid resistance, alkali resistance, and resistance to various organic solvents, and is insoluble in almost all solvents. At the same time, polytetrafluoroethylene has the characteristics of high-temperature resistance and its friction coefficient is very low, so it can be used as a way of lubrication. It has also become an ideal coating for the inner layer of nonstick boiler and water pipe.