CNC Machining for Semiconductor Industry
Semiconductor refers to the material with electrical conductivity between conductor and insulator at room temperature, the semiconductor industry is developed based on electronic information, absolute precision is critical to semiconductor equipment. Rapid CNC machining services can manufacture machined semiconductor components through processing materials with conductivity between conductor and insulator like silicon, alumina, sapphire, aluminum nitride, silicon nitride, etc. Semiconductor CNC machining parts are widely used in various electronic components and integrated circuits. What the semiconductor industry needs is CNC machining suppliers and assembly suppliers that understand critical features of the parts and master right procedures.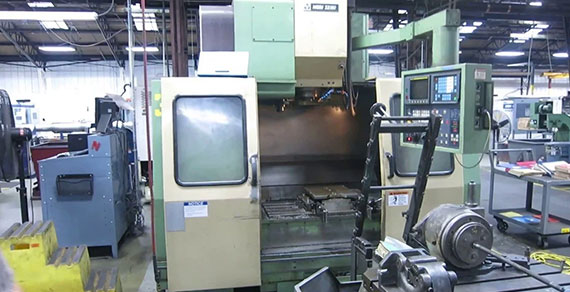 Benefits of CNC Machining in Semiconductor Industry & Equipment

– Quick turnaround time, tight tolerances provided.

– Reduce cost through lowering waste from mistakes.

– Dealing with a host of semiconductor materials

– Advanced techniques and complicated programs make not previously possible parts can be created

– Reliable solution for prototyping or large quantities production
Semiconductor CNC Machining Services – Machined Semiconductor Components Manufacturer in China
As a sophisticated CNC machining parts manufacturer in China providing custom CNC machining services, Jun Ying is capable to deliver the precision machined semiconductor components that customers need, our engineers, designers and operators are accomplished enough to give the engineering services and face the challenges from conception, design, to production and final semiconductor products, offering the most cost-effective solution. With a wide range of machining service like CNC turning, milling, drilling and surface treatment, we have the abilities to produce semiconductor parts of different materials, sizes, tolerances, specifications, configurations, applications and requirements. Long-term favorable prices and on-time delivery have built our reputation among the clients across the world.
Specifications of Our CNC Machining Semiconductor Parts
Main Materials:

element semiconductor material, organic semiconductor material, amorphous semiconductor material, compound semiconductor material, etc.

CNC Machining Processes:

OD grinding, face grinding, turning, milling, drilling, fabricating of complex parts

Applications:

integrated circuit, consumer electronics, communication system, photovoltaic power generation, lighting application, high-power power conversion and other fields.
Tolerance:

± .0002 in (±.005 mm)

Certification:

ISO9001:2015
Typical CNC machined semiconductor components:

gas distribution plates, wafer chucks, wafer carriers, solder pad stencils, flex circuit stiffeners, electromagnetic wafer chucks, electrical insulators, fiber optic laser guides, gaskets & seals, stand-offs & spacers, etc.
Advantages of Our CNC Military Machining

– Personalized service for each customer from a team of highly skilled professionals

– Fast turnaround time and on-time delivery

– Premium quality of semiconductor products conforms to industrial standards

– Excellent particle performance and high process yields.

– High flexibility in production volumes

– Short processing cycle and low semiconductor parts cost