Precision CNC Swiss Machining Services – Swiss CNC Machining & Turning Parts Manufacturer
If you need intricate components fabricated by a reliable precision CNC parts manufacturer, you can trust with CNC Swiss machining services offered at Junying, which is a China top CNC machining company that is specialized in CNC services and precision hardware production for decades of years, and have the capability to provide Swiss CNC machining services with the latest Swiss turning and machining technology for the manufacturing needs of various industries all over the world. With advanced Swiss lathe and Swiss machines, as well as other manufacturing facilities, our seasoned experts and technicians can give you the most cost-effective solutions and produce the highest quality Swiss machined parts based on the industry standards and customer requirements. From 5 axis milling service to CNC Swiss machining services, from Swiss CNC turning to wire EDM, no matter what type of CNC components you call for, our team will help you to approach the standard. The available machining materials at CNCLATHING.COM including stainless steel, aluminum, copper, and more. Welcome to contact us to get a free quote fast.
Why Choose Junying CNC Swiss Machining Services
Custom CNC Swiss turning and machining parts can be produced fast and efficiently, suitable for a high volume production run of small parts.
High speed and reliability ensures a quick turnaround, improved productivity will shorten the production cycle.
Precision Swiss CNC machining candle your complex parts project, tight tolerance, and high accuracy can be achieved.
Reduced secondary processing due to the application of live tooling and sub-spindles, accelerate the whole process.
Premium quality and high-grade material, careful operation, and strict inspection throughout the whole machining process, as well as quality tests for the product.
Capabilities of Junying Swiss CNC Turning Services
Our CNC Swiss machining services are the option of a variety of industries. We are capable of delivering the best precision Swiss machined parts to your exact needs with the following materials.
Materials: Stainless steel (303, 304, 316, 416, 420, etc.), carbon steel (1018, 1045, etc.), aluminum (6061, 6063, etc.), brass, copper, plastics, etc.
Industries: medical instrument, surgical tools, optical measurement equipment, computer fittings, military and defense, watch industry, etc.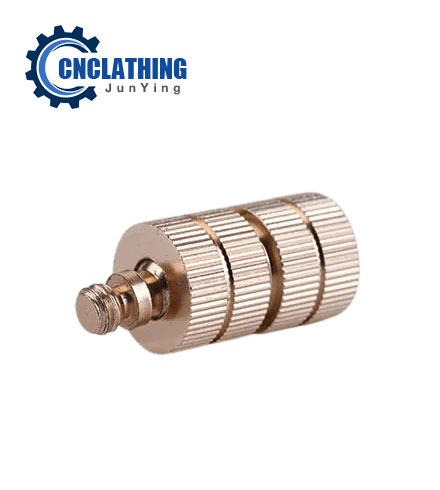 What is Swiss Machining?
Typically, Swiss machining refers to a precision manufacturing process in which parts are produced using specialized Swiss type CNC lathes, on the Swiss machines, the part is rotated in a radial motion when being cut. Because of the unique design of the Swiss machine, CNC Swiss turning services allow multiple operations are executed simultaneously in several zones in a short time. Therefore, its machining speed is greatly improved. This type of machining technology often used for small precision CNC turned parts projects.
What is a Swiss Machine and How Does a Swiss Lathe Work?
A Swiss machine (Swiss CNC machine), also known as Swiss screw machine, Swiss lathe, Swiss automatic and sliding headstock lathe, which is developed in 19th century Switzerland, its initial function is to support the mass production of micro screws. Swiss type machines can achieve higher precision and accuracy than traditional lathes, especially when producing extremely small parts. On a traditional CNC turning lathe, the part is held firmly at one or both ends, and can only rotate in a fixed position, so the machine can only perform one operation at once, while with a Swiss lathe, the workpiece can both turn and move back and forth along the Z-axis, it can perform multiple operations at one time. The bar stock is feed through a guide bushing and tools are mounted to the face of the guide bushing, so the force is right where the material is emerging from the bushing, which minimizes the tool force effects of the part, then ensures greater precision. In addition, Swiss turning machines can not only manufacture turned parts but also applicable to the use of producing complex profiles without turned surfaces.
Benefits of Swiss Machining
The piece is held steady in the position near the operation point and not affected by the force of tools, the precision can be maintained in tight tolerance.
Small parts with complex profiles and configurations can be manufactured, including thin walls, deep cuts, and more intricate features.
Because the Swiss machine can perform multiple operations at once, the production speed is much higher than common lathes.
Fewer needs for secondary processing and treatment, a shorter cycle of the production run.