CNC Nylon Polyamide Milling Services & CNC Milled Nylon PA Parts
Nylon Polyamide, also known as PA, is an engineering and high-performance polyamide thermoplastic with a wide range of industrial uses. Polyamide nylon has a number of advantages, making it ideal for a variety of applications. It is usually made into fibers for microfilaments and yarns, including ropes, fishing lines, racket strings and even apparel (socks, gloves). Polyamide (nylon) has very good abrasion resistance, good mechanical properties even at high temperatures, great fatigue resistance, good chemical resistance, and high machineability, so nylon plastics can also be machined, CNC Milling makes various plastic parts used in industry such as automotive gear. High-temperature and high-resistance complex parts manufactured by CNC PA Milling can be widely used in the automotive and transportation markets, consumer products, and electrical and electronic applications.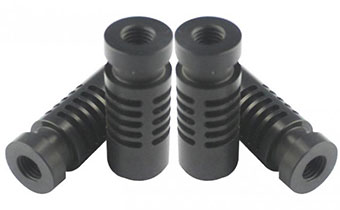 Top-Grade & Profitable Precision Nylon CNC Milling Services Supplier
Junying is a trustworthy CNC Nylon Polyamide milling service supplier and a CNC Nylon Milled parts manufacturer from China, has been active in precise Nylon CNC milling for years. We work in CNC Milling services for variety of polyamides and produce small to large sized CNC Milled PA Parts. Combining the expertise of turning specialists with high-performance CNC lathes, our multi-axis CNC milling centers meet the highest demands for precision and productivity, making very complex Nylon Polyamide parts by milling up to 5 simultaneous axes. we are very attentive to the quality and the finish of every order, work in relation of trust with our customers. In addition to precision CNC milling nylon parts production, fast and convenient delivery times are part of our objectives.

Features & Advantages Of Our Custom CNC PA Milling Services:
Competitive Prices:

Offer the advanced CNC Nylon Milling technology currently available to large companies at the profitable prices accessible to any user.

Unparalleled Quality

Always choose the best Nylon material according to the customer's budget and needs, strict quality control guarantees high quality.
Surface Finishes for CNC Nylon Milled Parts

Deburring, Chromate plating, Anodizing, Fumigating, Sanding, Sandblasting, Painting, Silk printing, Electroplating etc.

Custom Nylon Parts OEM Capacity

Provide customers with the best design and production solutions for CNC Milled PA Plastic Parts according to the drawings and parameters
Varity of Nylon Polyamide Plastic Can Be Milled

Nylon 6, Nylon 66, Nylon 11, Nylon 12, Nylon 46, Polyamide 69, Polyamide 1212 etc.

Efficient Production

3- and 5-axis CNC milling machines are equipped with various tool sets to maximize efficiency and production speed.
Wide Applications of CNC Milling PA Plastic Parts

Automotive parts, Electrical/Electronic parts, Industrial Applications, Consumer components, Connectors, Engineering parts, Housings, Appliances, Sporting goods etc.