CNC Machining in Acrylic – What is PMMA Plastic?
PMMA plastic is a popular material in CNC machining processes such as turning and milling due to some unique inherent properties, the transparency and rigidity make it a great substitute for glass.
Poly(methyl methacrylate), abbreviated as PMMA, also known as Acrylic, perspex, or plexiglass, is a type of engineering plastic, often available in transparent sheet form and used as a lightweight or shatter-resistant alternative to glass, it also can replace polycarbonate when tensile strength, flexural strength, transparency, polishability, and UV tolerance are more important than impact strength, chemical resistance, and heat resistance. PMMA plastic is easy to process and is usually used to produce signs, lightboxes, and billboards with Acrylic CNC machining, which also provides machined PMMA parts for construction and chemical industries. When it comes to the performance characteristics of PMMA, hardness can reflect the purity of raw material PMMA, weather resistance, and high-temperature resistance, it directly affects whether the plate will shrink, bend and deform and whether the surface will be chapped during processing.
Benefits of PMMA/Acrylic Plastic
Excellent transparency
Good optics, insulation, abrasion and weather resistance
Easy machining
Outstanding aging resistance
Strong toughness, good tensile strength and flexural strength
Good chemical stability, mechanical properties
Excellent dimensional stability
Available in different forms and colors
Low cost
Recyclability and biocompatibility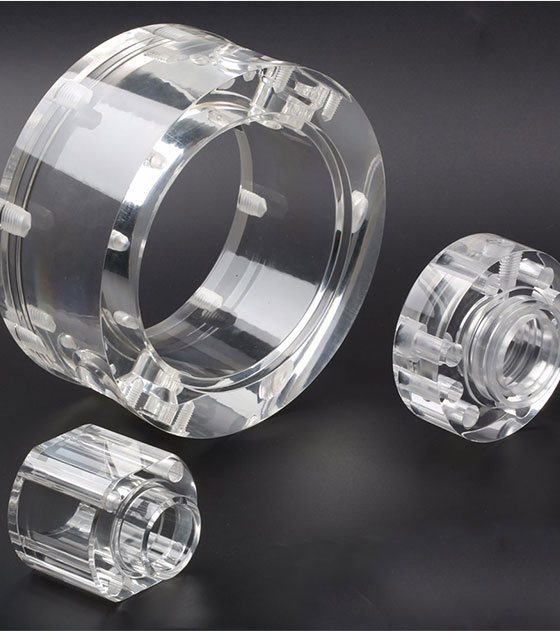 PMMA/Acrylic CNC Machining Services – Acrylic Machined Parts and Components Manufacturer
Acrylic or PMMA can be processed via different fabrication techniques, including CNC machining, 3D printing, and injection molding. Acrylic CNC machining at Junying offers a lot of unique advantages, we can manufacture Acrylic parts with a high level of accuracy and low cost, whether you need high-quality CNC PMMA (Poly methyl methacrylate) parts or prototypes in a reliable and safe way. CNC machining Acrylic parts are versatile and durable, however, this material is highly fragile and tends to fail when subjected to tensile and compressive forces. Based on years of experience, Junying is able to carry out cautious machining operations and avoid failure during the manufacturing, so as to reduce material waste then improve efficiency. PMMA CNC machining will greatly raise the speed of acrylic fabrication while maintaining correctness. Our skilled engineers and designers will fit your needs accordingly. Painting, polishing, and more surface finishing options are offered if you have cosmetic requirements.
Common Applications of Acrylic CNC Machining Parts
Acrylic machining parts and molded parts are widely employed in various industries. Acrylic is the best new material to make sanitary ware after ceramics. Compared with traditional ceramic materials, acrylic not only has unparalleled high brightness but also has the following advantages: good toughness and not easy to damage; bright colors can meet the individual pursuit of different tastes. Making basin, bathtub, and toilet with acrylic not only has exquisite style and durability but also has the effect of environmental protection. PMMA has the advantages of lightweight, low price and easy machining. It is widely used in instrument parts, automobile lamps, optical lenses, transparent pipes, etc.
Architecture: window, soundproof door, and window, telephone booth, etc.
Advertisement: lightbox, signboard, exhibition rack, etc.
Transportation: doors and windows of trains, cars, and other vehicles.
Medical: baby incubator, various surgical medical instruments.
Industrial: instrument panel and cover, etc.
Lighting: fluorescent lamp, chandelier, street lamp cover, etc.
Why Choose Junying CNC Acrylic Machining?
Aesthetic and cosmetic effects via various surface finishing services
A wide selection of colors are available while maintaining transparency
Acrylic machining allows complex shapes and designs
Light, strong, economical, and affordable PMMA parts
Premium quality prototypes in the most cost and time-efficient way