CNC Fixtures & Clamping Systems – Machining Fixture and Tooling Manufacturer
The workpiece clamping is of significant importance in machining operations, whether for conventional or CNC machines tools. Junying is a CNC part and tooling manufacturer that is specialized in the manufacturing of CNC fixtures and clamping systems used for different applications. Cast iron, stainless steel, and mild steel are popular fixture material options. Our custom fixture machining services can deliver CNC clamping systems with high functionality and ease of exchange, most importantly, can perfectly match your requirements. From VMC machining fixture to vacuum fixture to mechanical jig, trust professional experts and engineers at Junying to help you in fixture design and machining, as well as other tooling manufacturing. We'll minimize the downtime costs and improve the efficiency to provide a cost-effective solution with a short lead time. Fast to upload your CAD files or send us your inquiry to get a quick response online.
Why Choose Junying CNC Fixtures
Years of experience and knowledge enable us to handle multiple levels of complexity
Capabilities including CNC fixture manufacturing, assembly tooling, special machinery and more
From concept to the final product, custom fixtures are provided regardless of your industry
Safety and quality are our top priorities, implementation of inspection is a must step
Reasonable prices based on your specifications, quality requirements and budget limitations.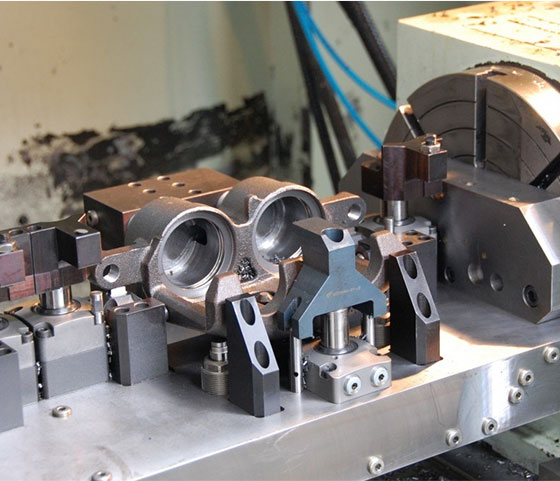 What is a CNC Fixture or Clamping System?
The fixture refers to the device that is used to fix the workpiece and hold it at the correct position for processing and inspection. When machining the workpiece on the machine tool, in order to make the surface of the workpiece meet the technical requirements such as the size, geometry, and position accuracy specified in the drawing, the workpiece must be positioned and clamped before machining. The clamping system has a direct impact on the vibrations generated during the machining process, which is also related to the quality of the cuts and the lifespan of cutting tools. There are various clamping systems used for CNC machining, vacuum clamps are one of the most versatile ways to secure a part on the machine, consists of several pads and connected to a vacuum pump, this CNC fixture can be used to clamp pieces with any thickness in a very fast and easy way.
Benefits of Machine Tool Fixture
It can accurately determine the relative position between workpiece, tool and machine tool, and ensure machining accuracy.
It can quickly locate and clamp the workpiece, reduce the auxiliary time and improve production efficiency.
The use of mechanical, pneumatic, and hydraulic clamping devices can reduce the labor intensity of workers.
It can increase the capability of a single machine tool.
Characters of Fixture Design
The fixture design cycle is short, the strength and stiffness are generally not calculated
The design of special fixture has strong pertinence to parts
The primary task of fixture design is to ensure product processing quality and improve labor productivity
The design of the clamping device plays a decisive role in the structure of the whole fixture
The basic principle of fixture design is economy and applicability