Heliarc Welding is an important arc welding process used in various industries. Compared with other arc welding techniques, Heliarc offers higher welding quality and efficiency. This article aims to provide an overview of Heliarc, including its concept, working principle, advantages, applications, and how it differs from other welding methods. Key topics such as welding characteristics, equipments, and similarities/differences between Heliarc and other welding techniques will be discussed in detail with clear explanations.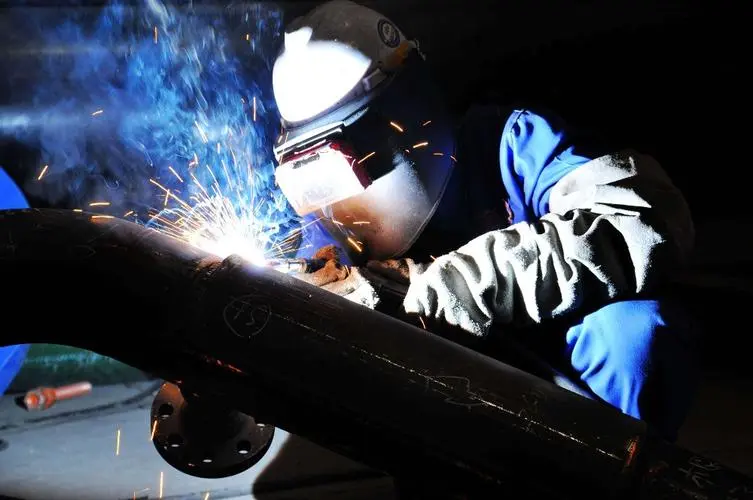 Heliarc Welding Definition & History – What is Heliarc Welding?
Heliarc welding, also known as Tungsten Inert Gas (TIG) welding or Gas Tungsten Arc Welding (GTAW), is a welding process that uses a non-consumable tungsten electrode to produce the weld. The term "Heliarc" is a brand name that has become synonymous with the TIG welding process, much the same way "Kleenex" has with tissues. The name "Heliarc" comes from Helium (one of the potential shielding gases used in the process) and Arc (referring to the electric arc that provides the heat).
In Heliarc welding, an electric arc is created between the tungsten electrode and the workpiece. The arc generates intense heat, which melts the base metal and forms a weld pool. The weld pool is protected from atmospheric contamination by an inert gas, typically argon or helium, which is fed through a nozzle surrounding the electrode.
Heliarc Welding Work Principle – How the Heliarc Welding Process Works?
Here's a brief rundown of how the process works:
Shielding Gas: Inert gas, such as argon or helium, is used to protect the welding area from atmospheric gases (like nitrogen and oxygen) which could cause fusion defects, oxidation, or other undesirable effects.
Tungsten Electrode: The electrode is non-consumable, meaning it doesn't melt and become part of the weld. Rather, it creates an electric arc with the workpiece, generating the heat necessary for welding.
Heat Generation and Metal Joining: The intense heat generated by the electric arc melts the edges of the workpieces, and may also melt a filler metal if one is used. When the melted areas cool and solidify, they fuse together, creating a strong joint.
Control and Versatility: One of the advantages of Heliarc/TIG welding is that it provides excellent control over the welding process. The welder can control the heat input and the addition of filler metal separately, allowing for precise, high-quality welds. TIG welding can be used on more types of metals than most other welding processes, and it can be used in all welding positions.
Heliarc Welding Machine – What are the Equipment for Heliarc Welding?
A Heliarc welding machine, also known as a gas tungsten arc welding (GTAW) or tungsten inert gas (TIG) welding machine, is a specialized equipment used for the Heliarc welding process. It consists of several key components that enable the welding operation. Here are the main components of a typical Heliarc welding machine:
Power Source: The power source is the main unit of the welding machine that provides the electrical current required for the welding process. It converts the input power supply (usually AC or DC) into the appropriate welding voltage and current.
Control Panel: The control panel is where the welder can adjust various welding parameters, such as current, voltage, and pulse settings. It may include knobs, switches, digital displays, and other controls to fine-tune the welding conditions.
Torch and Tungsten Electrode: The welding torch is the handheld device that holds the tungsten electrode and directs the welding arc onto the workpiece. The tungsten electrode is a non-consumable electrode that forms and maintains the arc during the welding process.
Gas Supply and Regulator: Heliarc welding requires a shielding gas, typically argon or helium, to protect the weld pool from atmospheric contamination. The welding machine is equipped with a gas supply system that includes a gas cylinder, regulator, and flowmeter to control the flow rate of the shielding gas.
Foot Pedal or Hand Control: Heliarc welding machines often feature a foot pedal or hand control device that allows the welder to control the welding current in real-time. By adjusting the position or pressure on the foot pedal or hand control, the welder can precisely regulate the heat input.
Cooling System: Some Heliarc welding machines may have an integrated cooling system to prevent overheating of the machine components. This is especially common in high-power or heavy-duty welding machines. The cooling system typically consists of fans, heat sinks, and sometimes a water cooling system.
The specific features and capabilities of Heliarc welding machines can vary widely depending on the manufacturer, model, and intended application. Different machines may offer additional functionalities like pulse welding, AC/DC capability, waveform control, and advanced programming options.
When selecting a Heliarc welding machine, it is important to consider factors such as the desired welding output, the types of materials to be welded, the required welding parameters, and the budget. It is recommended to consult with welding equipment suppliers or professionals to choose a machine that best suits your specific welding needs.
Heliarc Welding Features – What are the Cons & Pros of Heliarc Welding?
Heliarc Welding offers several advantages and disadvantages. Here are some key features of Heliarc welding:
Advantages of Heliarc Welding:
Precise Control: Heliarc welding allows for precise control over the welding process. The heat input can be finely adjusted, which is beneficial when working with thin sections or when a high level of control is required.
Clean and High-Quality Welds: The non-consumable tungsten electrode used in Heliarc welding does not add any filler material to the weld. This results in clean and high-quality welds that have minimal spatter and distortion. It is particularly useful when aesthetics and appearance are important.
Versatility: Heliarc welding is a versatile process that can be used to weld a wide range of metals, including stainless steel, aluminum, copper, and titanium. It is particularly well-suited for welding non-ferrous metals.
Gas Shielding: The inert gas (typically argon or helium) used in Heliarc welding provides excellent protection to the weld pool, preventing oxidation and contamination. This results in strong and high-integrity welds.
Disadvantages of Heliarc Welding:
Slow Process: Heliarc welding is generally slower compared to other welding processes. It requires more time to complete a weld due to the need for precise control and the slower filler metal deposition rate. This can affect productivity.
Skill and Experience Required: Heliarc welding requires a high level of skill and experience to achieve quality welds. The welder needs to have a good understanding of the process, as well as expertise in manipulating the torch and controlling the heat input.
Equipment Cost: The equipment used in Heliarc welding can be more expensive compared to other welding processes. It typically involves a power source, gas supply, and a welding torch with a tungsten electrode. The cost of maintaining and replacing consumables, such as tungsten electrodes and gas nozzles, can also add up.
Sensitivity to Wind and Drafts: Heliarc welding is sensitive to wind and drafts because the inert gas shield can be easily disrupted. This makes it challenging to perform the process outdoors or in environments with poor ventilation.
Despite these disadvantages, Heliarc welding remains a popular choice in various industries where precise and high-quality welds are required, such as aerospace, automotive, and electronics. With proper training and equipment, skilled welders can overcome the limitations and utilize the advantages of Heliarc welding effectively.
Heliarc Welding Applications – What is Heliarc Welding Used For?
Heliarc welding is a versatile welding method that finds applications in various industries. Here are some common applications of heliarc welding:
Automotive Industry: Heliarc welding is widely used in the automotive industry for fabricating and repairing various components, including exhaust systems, fuel tanks, chassis, and body panels. Its ability to weld different metals, such as aluminum and stainless steel, makes it suitable for automotive applications.
Aerospace Industry: Heliarc welding is extensively used in the aerospace industry for joining critical components, such as aircraft frames, engine parts, and fuel tanks. The high precision and strength of heliarc welds make them ideal for ensuring the structural integrity and safety of aircraft.
Power Generation: Heliarc welding is employed in the power generation sector for fabricating and repairing components used in power plants, including turbines, boilers, and heat exchangers. The ability to weld high-temperature alloys and maintain the integrity of the welds under extreme conditions is crucial in this industry.
Petrochemical Industry: Heliarc welding is commonly used in the petrochemical industry for welding pipes, tanks, and other equipment used in the processing and transportation of chemicals and petroleum products. The high-quality welds produced by heliarc welding ensure leak-free and durable connections.
Food and Beverage Industry: Heliarc welding is utilized in the food and beverage industry for fabricating and repairing stainless steel equipment, such as tanks, pipelines, and processing machinery. The welds produced by heliarc welding are sanitary, corrosion-resistant, and meet the stringent hygiene standards of the industry.
Medical Equipment: Heliarc welding is employed in the manufacturing of medical equipment, including surgical instruments, implants, and diagnostic devices. The precise control and clean welds produced by heliarc welding ensure the integrity and safety of these critical medical components.
Art and Sculpture: Heliarc welding is also used in artistic applications, such as creating sculptures and metal artwork. The ability to achieve intricate and precise welds allows artists to bring their creative visions to life.
Heliarc vs. TIG Welding – What is the Difference Between TIG and Heliarc Welding?
There's actually no difference between TIG (Tungsten Inert Gas) welding and Heliarc welding. The two terms both refer to the same welding process, which is officially known as Gas Tungsten Arc Welding (GTAW) in the American Welding Society nomenclature.
The term "Heliarc" welding was an early trade name coined by the ESAB Group, who developed the process. It's derived from the words "Helium" (which was the original shielding gas used) and "Arc" (referring to the electric arc created by the tungsten electrode). "TIG" welding, on the other hand, gets its name from the process itself — it uses a tungsten electrode and an inert gas for shielding.
So, whether you hear the process called TIG welding, Heliarc welding, or GTAW, they're all referring to the same thing: a welding process that uses a non-consumable tungsten electrode to heat the base metal, while a shield of inert gas protects the weld area from atmospheric contamination.
Differences between Heliarc Welding and other Welding
Compared to other arc welding techniques like Shielded metal arc welding (SMAW), GTAW offers better weld quality, penetration and appearance for thin materials. Gas metal arc welding (GMAW) has higher deposition rate but GTAW provides better control of weld profile and penetration. Laser beam welding delivers deeper penetration but is more expensive than GTAW. Plasma arc welding is faster than GTAW but offers less control and versatility. Overall, GTAW remains useful for its balance of quality, productivity and cost.
Heliarc Welding Cost – How Much Does Heliarc Welding Cost?
The cost of Heliarc welding (also known as TIG or GTAW welding) can depend on several factors, including the complexity of the project, the materials being used, labor rates, and your geographic location.
Material Cost – The material used for welding, such as aluminum, steel, stainless steel, etc. will affect the cost. More expensive materials will cost more to weld.
Electrode/Wire – The type of electrode or wire used impacts cost. Alloys can increase welding costs.
Labor Rates – Hourly rates for certified welders trained in heliarc welding can range from $25-50+/hour depending on location and experience.
Machine/Equipment Costs – Projects requiring large, expensive heliarc welding machines will incur higher costs for machine time/rental. Portable machines are less expensive.
Project Complexity – Simple welds on flat surfaces cost less than complex configurations, three-dimensional structures, orbital welding, etc.
Project Size – Larger projects using more material and labor hours will have higher total costs compared to small jobs.
On average, typical hourly heliarc welding labor rates can range from $100-250/hour depending on the above factors. Very simple/small jobs may cost $75-150 total. Complex projects requiring specialized equipment and expertise could cost $300-1000+ per hour of welder time. Material and consumable costs also factor in on top of labor. So a rough estimate for general heliarc welding costs is $75-500 per hour depending on the specific job requirements and materials used. Larger industrial projects may run $1000+/hour or more.
Heliarc Welding Aluminum – What Gas to Heliarc Welding Aluminum?
Heliarc welding is commonly used for welding aluminum due to its precision and control, which can yield high-quality welds even with aluminum's relatively high thermal conductivity and low melting point.
As for the shielding gas used when Heliarc welding aluminum, the most common choice is pure argon. Argon provides good cleaning action, a smooth and stable arc, and deep penetration.
Heliarc Welding remains one of the most important arc welding processes in industrial manufacturing due to its flexibility, quality and cost-effectiveness. Future development is expected in the area of advanced automation and process control using Industry 4.0 technologies.